Sep 28, 2023
Liberty Bank Cuts Ribbon to New Loan Production Office in Downtown Springfield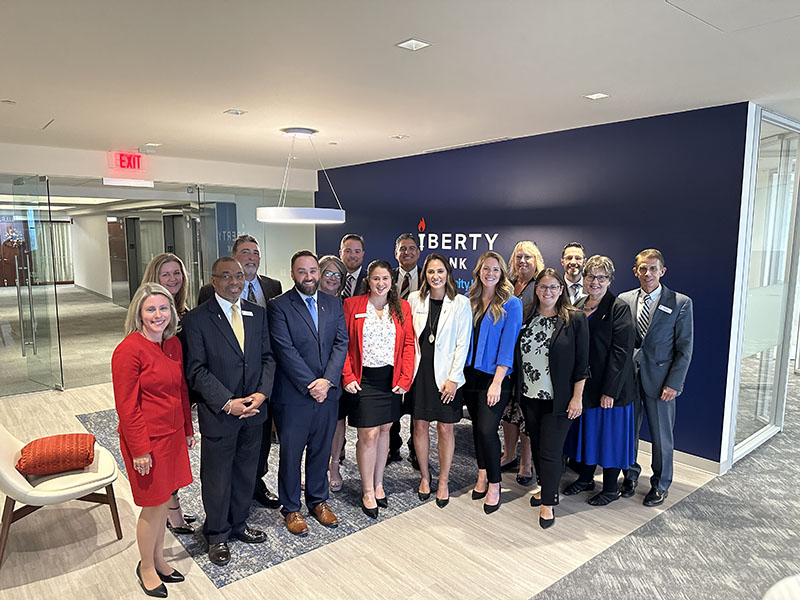 Liberty Bank, headquartered in Middletown, Connecticut, cut the ribbon to its new Loan Production Office (LPO) on the 22nd floor of One Monarch Place in downtown Springfield. The event took place on Wednesday, September 27.

Springfield Mayor Domenic Sarno joined David Glidden (Liberty Bank's President & CEO), Tony Liberopoulos (Western Mass Market President) as well as Liberty Bank teammates, customers and community stakeholders in officially opening their new office in the premier office building in the heart of Springfield's financial district.

The Western Mass banking team, well-known bankers and community partners who have lead the Bank's expansion into Western Massachusetts, originally opened their first LPO at 94 Shaker Road in East Longmeadow in 2021. However, they wanted further penetration and exposure in the Western Mass market, which precipitated the move to downtown Springfield.

Among the amenities of their new Springfield LPO includes a reception area that leads to 15 offices, eight workstations and hoteling workspace. The new office also includes a large conference room with additional team collaboration areas and a complete kitchen. Liberty's 'Be Community Kind' brand and colors are displayed throughout the space.

Underscoring their commitment to the Western Mass community, the Liberty Bank Foundation granted donations to three area nonprofits totaling $20,000 at the ribbon cutting: Boys & Girls Club of West Springfield, Junior Achievement of Western Mass and Food Bank of Western Mass.
"Expanding our presence in Western Mass and moving the team to downtown Springfield is a natural extension of building our market footprint along the I-19 corridor that starts in New Haven and ends in Springfield's financial district," said David W. Glidden, President & CEO of Liberty Bank. "In just a short period of time, we witnessed significant growth in this market. This team is not only well-known among their customers, prospects and partners in this community but together they impressively have nearly 200 years of banking experience in this region. That's why I'm so optimistic about the future of Liberty Bank in Western Mass."

"Opening a loan production office right here in Springfield's financial district says a lot about our dedication to the strength of the city, our commitment to building new customer relationships and positioning Liberty as a strong downtown partner," said Tony Liberopoulos, Liberty's Western Mass Market President. "The Bank might be new to downtown Springfield but our team of bankers is not new to this area. We have one of the most experienced teams who have the size and scale to make commercial and business loans of all sizes and complexities while delivering swift, local decision-making and on the spot."
Mayor Domenic J. Sarno states, "I want to thank Liberty Bank President and CEO David Glidden, Tony Liberopoulos, Western Mass Market President, and the entire Liberty Bank team for their continued belief and investment in Springfield. My administration is excited to welcome Liberty Bank to our City as they continue to expand into Western Massachusetts. This new Loan Production Office right here in the heart of our downtown Springfield will help to connect our Springfield area businesses of all sizes with the key services and products Liberty Bank has to offers."
As a result of the lending team's success, Liberty identified a strong demand to establish a branch to support our customers' needs and Liberty's continued growth in Western Mass. Therefore, Liberty will be opening a full-service banking branch at 94 Shaker Road in East Longmeadow later this fall.

About Liberty Bank
Established in 1825, Liberty Bank is the oldest and largest independent mutual bank in the country. With more than $7 billion in assets, Liberty has 56 banking offices across Connecticut and one in Massachusetts. As a full-service financial institution, Liberty offers consumer and commercial banking, cash management, home mortgages, business loans, insurance and investment services. Named 'Top Workplace' by the Hartford Courant every year since 2012 and designated a 2021, 2022 and 2023 Best-In-State Bank in Connecticut by Forbes Magazine.